About this event
Overwhelmed? Struggling with constant distractions, information overload and a rapidly changing business environment? Under pressure to juggle productivity and wellbeing? Challenging time ahead? We're here to help.
Time is not your most precious resource: your attention is. We help you manage attention and focus, projects and actions, as well as choices and habits.
At the end of this session you will have developed an understanding of the systems and techniques set out in Graham Allcott's 'How to be a Productivity Ninja' book.
You'll reduce stress by eliminating those nagging feelings of doubt, guilt and overload panic, and replace them with a focused, playful, purposeful and productive momentum.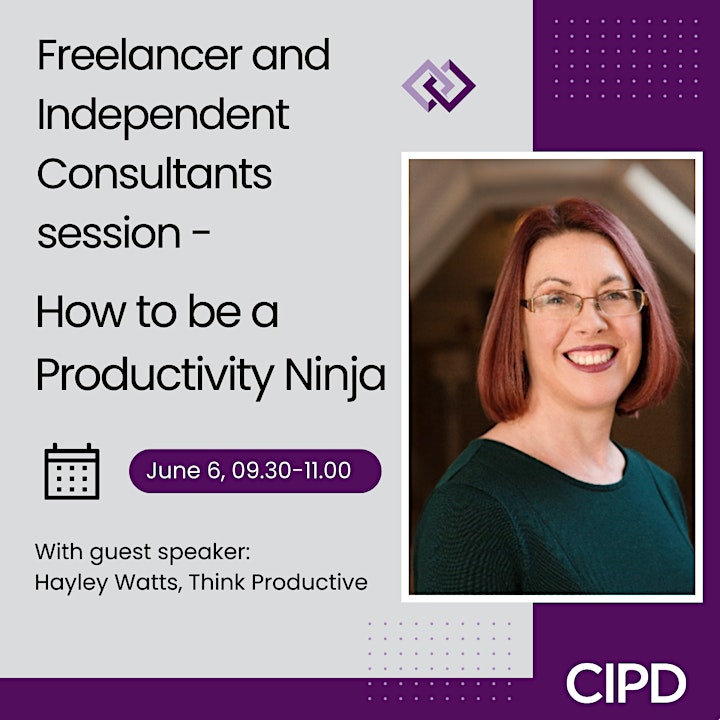 About Hayley Watts, Think Productive:
Hayley helps people who have too much work and not enough time. Hayley is interested in helping organisations and individuals to improve their meetings and meeting cultures. She is an accredited facilitator and loves nothing more than facilitating conversations that help move teams forward. Hayley is an experienced Productivity Ninja, discovering the world of productivity whilst working as a stressed-out CEO she has learnt to implement tools and techniques that will work for anyone whose role gives them some level of autonomy over deciding what they can do next. Hayley has trained thousands of people to help them do the same. Hayley is the Co-Author of 'How to Fix Meetings' (shortlistsed for the Business Book of the Year Awards 2022). Hayley is especially interested in habits and how different people can create habits and motivate others to do so too.
Please note:
1. Webinar joining instructions will be sent to you 2 days before the event (with further reminders 2 hours prior to the session and 10mins prior to the session).
2. The webinar will start at 09.30 and run for about 90 minutes.
3. The session may be recorded and shared with people afterwards. If recorded it will be upload it to CIPD channels.
4. The chat function will be used for participants to engage with the webinar, so just be mindful of the login name you use and ensure you are happy for other people to see this.
5. Professional photography and video production may be taking place at the event, and these images and videos may be used on future promotional materials for CIPD.
6. By attending the event, you are giving your consent for your image to be used on any CIPD promotional materials.
7. For security reasons, it is requested that participants join the live session 10 minutes prior to the scheduled start time and with the same name as registered on Eventbrite as not doing so may cause a delay or non-admittance to the event.
8. If you require us to make reasonable adjustments for you to access and attend this event, please email london@cipdbranch.co.uk